"Marry my R32 to your R34"
Bride of GT-R
One day, a message was sent to Nissan Facebook page. It was a story of a couple who got married by the presence of each other's car that played matchmaker for them.
They first met through GT-R. As they were both enthusiastic GT-R owners, the two soon started to go for a drive.And when the husband asked her to marry him, her answer was "marry my R32 to your R34."
A romantic story of the two people and two cars that gained 20,000 Like! and attracted 400,000 people's heart.Hope you enjoy.

It all started with a sudden contact.
It was about 10 years ago, when I started working in the hotel industry for 4 and a half years after graduating from university. My wife was junior one year behind me at the company. We both were acquainted slightly but I never asked her out because there was no common meeting ground as we worked in different departments and sections.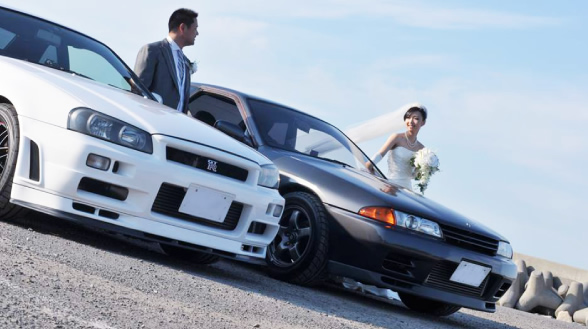 A few years past since then and to me my GT-R was practically my girlfriend. Then one day my former boss during my hotel business years called me up.
He asked whether I was interested in meeting someone…that person is now my wife. At the time my wife turned the offer down, being told it was an unidentified man. My boss was in a jam so he told her, "This person I want to introduce is someone you worked with 10 years ago". So my wife knowing it was a favor to him and not someone she doesn't know at all, she obliged on the condition that it would be a group dinner occasion. Not knowing the fact, I only had a vague idea from my former boss, being told that it's XXX from the company we both were working at the time. I only had a slight memory and besides I never even worked with her! I was in conflicting emotions both nervous and shy since I was not sure what to talk about with someone whose address I didn't even know!
On the day of the meet, we met again for the first time in many years.
On the day of the meet, I was delayed by work and led to the room at the restaurant by the hostess. It appeared like things were on a roll and I looked out of place in a suit….the only place left to sit was coincidentally next to my wife. Seeing each other after 10 years blank and what a surprise!
Me: "Wow, she's pretty!"
Wife: "He's gained weight but he has the same smile!"
Those were our impressions. (laugh)
This was a group date set up by a common boss so there was some unease as time passed by. However, when I told her that I like cars, she asked, "Do you like Skylines? You email address also contained these words." When I told her I drive a R34 GT-R, my wife spewed the drink she was having and said, "What?" I just though girls don't know what GT-R is, but she kept excitedly repeating, "Huh? What?" She confessed that she actually drove a R32 GT-R! Then everything clicked and we couldn't stop talking about the Skyline.

The fateful first date.
So, we never got to talking to others there and kept on talking to ourselves until we said our goodbyes. At the time I thought she was unattainable and my friend had an eye for her so I ended up cheering him as I suppressed my true feelings. But I just couldn't get the girl who drives an R 32 GT-R out of my mind and just once I decided I would ask her out on a drive. She accepted and cancelled her date with my friend.
For this special day I washed my GT-R to a sparkle and in full preparation. She seemed to be really taken by the R34 and kept staring at it for a while. I thought this was a once and only date but after a while my wife asked me out for a drive saying she wanted to ride in the R34. I had mixed feelings knowing how my friend was after her. That is when I thought I should act like a man and go after the one I love, ending up fighting over her with my friend. But she also ended her friendship with him and dated only me afterwards.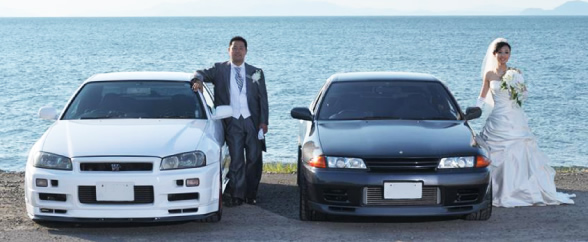 A marriage proposal. And finally we got married.
My friend said that from the beginning he felt it was a no win situation because we were so enraptured with GT-R talk and she seemed to be enjoying it so much. And then he told me to just take good care of her. So we continued to have dates with the GT-R and I proposed one day. She replied, "Let my R32 marry your R34 too!" And that's how we are now. I ask her if she would have gone out a date with me if I didn't ride the R34. To which she answers, "I'd say no without a doubt," adding that she first fell for the R34 but eventually fell in love with me, not the car…" (laugh) So we have a great relation and the GT-R is without a doubt a very special car that brought the two of us together.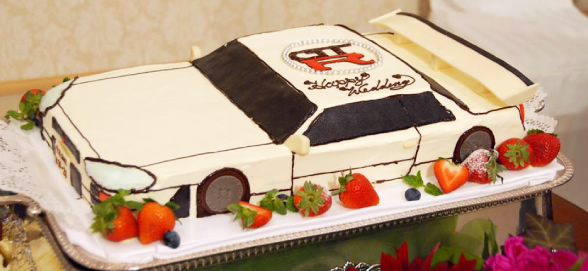 These days, the younger generation are distant from cars…they think of cars only as a means of transportation, almost like white household goods…it's very sad. Sometimes out on a drive or while waiting for the signal to change, you see a small child saying, "Mom, look it's a Skyline!" I am amazed at their awareness level and just have to smile. I even have a friend whose child's first words are "Daddy, mommy, Skyline"…not sure if it's true or not but…my friend owns a different company's car! I'd like my child to be like that…we are expecting a child this October. (laugh) There are going to be lots of events with a new family member joining so I would like to make lots of memories together with my beloved car.